Diary Events and Information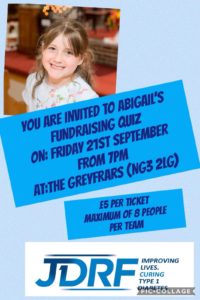 Abigail, an 11 year old parishioner, is inviting you to her fundraising Quiz for a charity that helps people who are diagnosed with Type 1 diabetes on Friday, 21st September at 7pm at the Greyfriars (NG3 2LG). £5 per ticket, max. 8 people per team. Will we be able to support her with an Our Lady's or Infant of Prague team?
5 Day Pilgrimage to Lourdes with Fr. John Martin, £559
A morning of reflection on the Eucharist has been arranged for Saturday 22nd September from 10.00am to 1.00pm in the parish centre. Deacon Martyn will lead the morning which will conclude with Adoration in the convent chapel. It is hoped that all ministers will make every effort to attend.
Tuesday, 25th September, from 12noon to 2pm. You are invited to a social eating event at Bestwood Park Church with a roast chicken dinner and peppered corn steak and fruit sponge with custard.
Back again on Friday, 28th, in the Parish Hall. Open to young people from Year 6 upwards who want to have a fun-filled evening. The session runs from 7-8.30pm for £1.50 and don't forget any extra pennies for the tuck shop!
The Filipino Rosary Crusade is inviting everyone to its monthly Novena to Our Mother of Perpetual Help at Our Lady's on 29th September 2018 at 5pm. If you would like your personal intentions to be remembered in the Novena, please write them on a sheet of paper and drop them in the petition box located at the Lady Chapel. Alternatively, please send them to perpetualhelp.prauerrequests@yahoo.com. Let us ask Mother Mary's help for peace in our country and the whole world. Thank you.
There will be an Hour of Adoration for vocations on Sunday, 30th September 2018 at 3pm in the Convent Chapel. Everyone is welcome.
Nottingham City Prayer — a group of church and parish clergy across the City of Nottingham — is aiming to recruit 100 foster homes over the next 3 years. If you are interested in finding out more, please come along to a Q&A event at Trent Cafe, Wednesday 3rd October, 8-10pm.
The Scripture Group is meeting in the Convent on Wednesday, 3rd October 2018 at 7pm. Everyone is welcome.
Diocesan Day of SPANNED (Supporting People with Additional Needs in the Nottingham Diocese) from 11am to 3pm.