Diary Events and Information
Freedom in Christ Renewal Convention & Healing Service on Sunday 17 Nov 2019, 2PM to 6PM at Our Lady's Church , Bulwell led by very popular international speaker, evangelist , exorcist and author Fr. Pat Collins ( Dublin ) & Fr. John Martin . Praise & worship, Talks, Mass , Adoration , Healing ministry. . A collection to cover costs. Children sessions provided .
All welcome .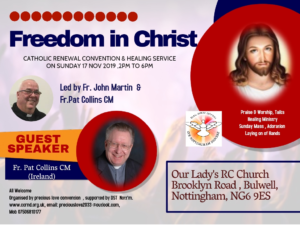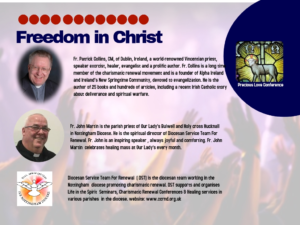 The service to remember all those who have had funerals in our parish during the year will take place at 3.00pm on Sunday 24th November at Our Lady's. Invitations will be sent out to the next of kin, but an invitation to attend is extended to anyone who would like to remember a relative during the service.
Fr John will lead the pilgrimage to the Holy Land next year so if you would like to see the Gospel come to life by following the footsteps of Jesus in the Holy Land, please contact Myra Boon on 01793 608844 or 07743980771 . This is an 8 day pilgrimage and includes a non-stop return flight from Manchester to Tel Aviv airport and costs from £997 per person. Poster at the back of church with full details.